Contents
Back to Main Page
Railfan Information
Features
Photograph Index
Discussion/E-mail Lists
Equipment Rosters
Links to Other sites
About this site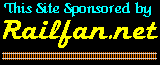 Historical Index
Last Updated May 31, 2011
The Oklahoma List - A guide to existing depots, structures, and preserved equipment in the state of Oklahoma.
1905 Oklahoma Map (487KB)
This map was a promotional item distributed by the American Investment Company of Atoka, IT. Please note that some of the lines shown were only projected and never built.
Oklahoma Union Railway Station, Tulsa
A real photo postcard view of the OURy's Tulsa depot, which served both the interurban line to Sapulpa as well as the city lines.
1901 Choctaw, Oklahoma and Gulf Annual Report to Stockholders (PDF) - Scanned version of a 1901 Choctaw Annual Report (3.5 MB)